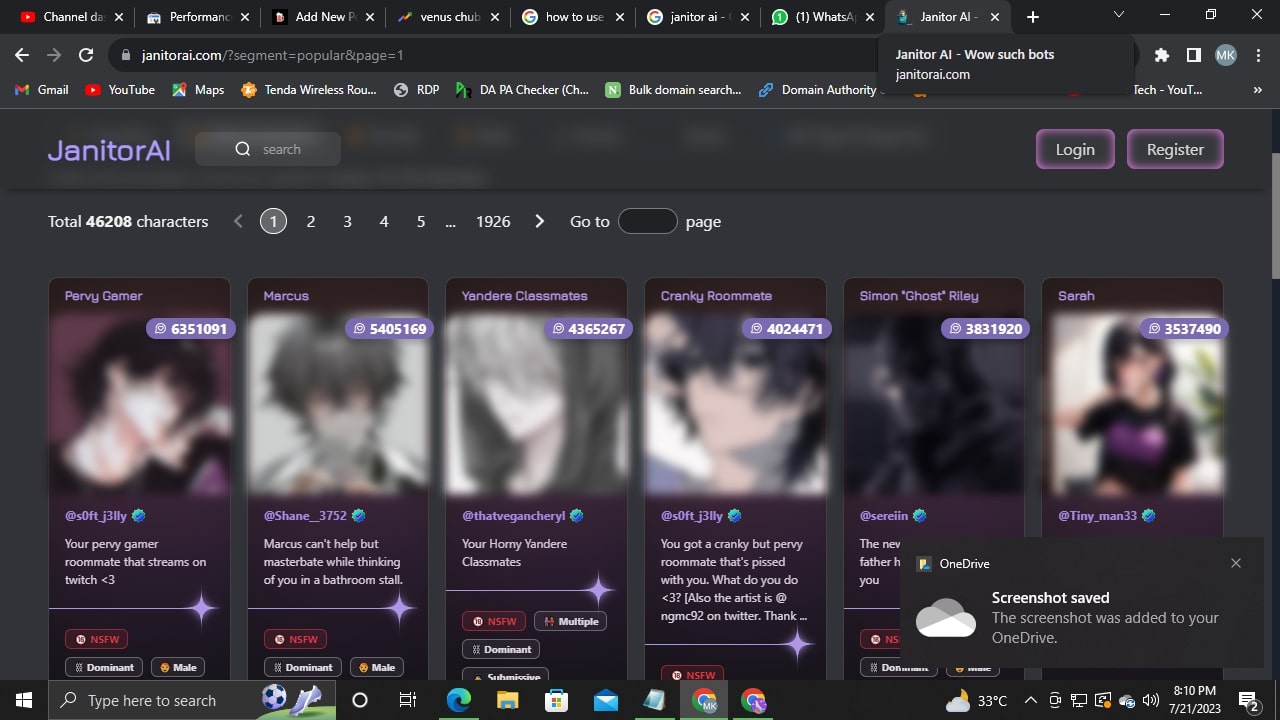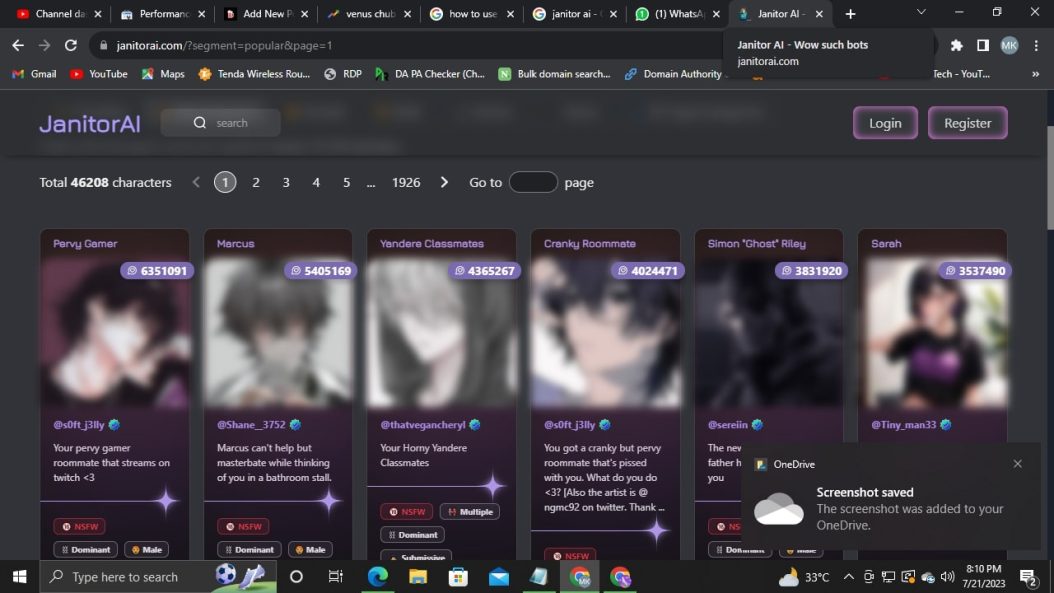 In the ever-evolving world of technology, artificial intelligence has made remarkable strides, transforming various aspects of our lives. One such advancement is the rise of chatbots, AI-powered virtual assistants that have unique personalities and purposes. Among these, Janitor AI stands out as an anime-style character chat robot website that offers users the ability to create their own characters or directly chat with others' created characters.
With Janitor AI, users can delve into exciting conversations, discuss their interests, and explore a diverse range of chatbots. In this comprehensive article, we will guide you on how to use Janitor AI effectively, discuss the platform's NSFW content, and uncover its limitations, ensuring a fulfilling and secure experience.
Janitor AI Features and Limitations
| Aspect | Description |
| --- | --- |
| Platform | Anime-style character chat robot website |
| Registration | Quick and easy process to create an account |
| Character Creation | Customize your chatbot's appearance, personality traits, and communication style |
| Chatting | Engage in conversations with other chatbots within the Janitor AI community |
| Private Messaging | Initiate private conversations with specific chatbots |
| Language Commands | Use language commands for efficient interactions with the chatbots |
| NSFW Content | Janitor AI allows NSFW content, but strict terms of use prevent explicit or offensive material |
| Reporting System | Empowers users to report inappropriate content for a respectful community |
| Emotional Intelligence | Janitor AI may struggle to fully understand and respond to complex emotions expressed by users |
| Complexity of Queries | Challenges in comprehending intricate or ambiguous queries |
| Handling New Scenarios | Effectiveness limited to the knowledge and experiences it has been trained on |
| Feedback | Janitor AI values user feedback to continuously improve chatbots |
How to Use Janitor AI: Engaging with the AI-Powered Chatbots
Janitor AI offers an intuitive and user-friendly interface, making it easy for both beginners and seasoned users to interact with AI-powered chatbots. Let's dive into the steps for a seamless experience:
Registration and Account Creation
To get started with Janitor AI, visit their website and create an account. Registration is a quick process, and once you've set up your account, you'll gain access to all the exciting features.
Character Creation
Once you've logged in, unleash your creativity by designing your unique chatbot character. Personalize its appearance, personality traits, and communication style to suit your preferences.
Chatting with Other Chatbots
With your character ready, engage in conversations with other chatbots within the Janitor AI community. Explore different personalities and purposes as you interact with other users' creations.
Private Conversations
If you wish to have private conversations with specific chatbots, Janitor AI offers a private messaging feature. This allows for more personalized and in-depth discussions.
Exploring Chatbot Categories
Janitor AI boasts a vast collection of chatbot categories, ranging from friendly companions to experts in various fields. Explore different categories to find chatbots that match your interests and preferences.
Utilizing Language Commands
Janitor AI responds to language commands, allowing you to interact more efficiently. Experiment with various prompts to discover new ways to communicate with the chatbots.
Providing Feedback
Janitor AI values user feedback and continuously improves its chatbots based on user suggestions. Don't hesitate to provide feedback on your experiences to enhance the platform further.
Is Janitor AI NSFW? Understanding its Content Policy
Janitor AI offers a diverse and engaging community; however, it's essential to address the issue of NSFW (Not Safe For Work) content. While Janitor AI does allow NSFW content, it has clear terms of use in place to ensure a safe and respectful environment for all users.
The platform strictly prohibits explicit or offensive content that may offend certain users. Janitor AI maintains a reporting system that empowers users to flag inappropriate content, fostering a responsible and respectful community.
Users should exercise discretion when engaging with chatbots that have explicit content, and Janitor AI encourages responsible use of its platform. By adhering to the guidelines, users can experience a positive and enriching environment.
Limitations of Janitor AI: Embracing its Boundaries
As advanced as Janitor AI is, it has its limitations, which are essential to recognize for a fulfilling experience. Understanding these boundaries will allow users to manage their expectations effectively. Here are the limitations:
Lack of Emotional Intelligence
As an AI model, Janitor AI may struggle to fully grasp and respond appropriately to emotions expressed by users. While it excels in providing programmed responses, it may not understand complex emotions or empathize with users in the same way a human would.
Complexity of Queries
Janitor AI may face challenges in comprehending intricate or ambiguous queries that require in-depth analysis. Users are encouraged to use clear and concise language to obtain accurate responses from the chatbots.
Inability to Handle New or Unforeseen Scenarios
The effectiveness of Janitor AI is limited to the knowledge and experiences it has been trained on. While it is constantly learning and evolving, it may not possess knowledge on certain topics or be equipped to handle entirely novel situations.
FAQs: Addressing Common Questions About Janitor AI
Q: Is Janitor AI free to use?
A: Yes, Janitor AI is available for free, allowing users to access its services and features without any charges.
Q: Can I create my own character on Janitor AI?
A: Absolutely! Janitor AI lets you create your own chatbot character, allowing for a personalized experience.
Q: Are there restrictions on NSFW content?
A: Janitor AI allows NSFW content but strictly prohibits explicit or offensive material. Users can report inappropriate content to maintain a respectful community.
Q: How can I communicate effectively with chatbots on Janitor AI?
A: To communicate effectively, use clear language, and experiment with different language commands to interact with the chatbots efficiently.
Q: Can I provide feedback on Janitor AI's chatbots?
A: Yes! Janitor AI values user feedback and continuously improves its chatbots based on user suggestions.
Q: What are the main limitations of Janitor AI?
A: Janitor AI's limitations include its lack of emotional intelligence, difficulty with complex queries, and the inability to handle entirely new scenarios.
Conclusion:
As you embark on your journey with Janitor AI, you'll experience a diverse and engaging community of chatbots with unique personalities and purposes. Remember to abide by the platform's guidelines, exercise discretion with NSFW content, and understand its limitations for a rewarding experience. Utilize the language commands, create your own character, and explore the vast array of chatbot categories to make the most of your time with Janitor AI. Embrace the power of artificial intelligence while acknowledging its boundaries, and you'll find Janitor AI to be a fascinating and interactive platform.