PUBG vs Free Fire has become the talk of the town among the gaming community these days. In this article, we will provide you with a detailed comparison of both the games, so it will become easier for you to choose between two of the most downloaded games on the play store. Free Fire was launched back in 2018 and gained popularity among the fighting game lovers in no time.
It has been a solo player until 2018 when PUBG came into the limelight, checking the popularity of Free Fire. From then to now, PUBG has been trending all over the world since its launch in 2018 and has been downloaded 100 million times.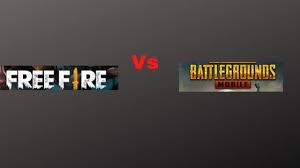 Graphics Comparison
When we talk about graphics, then PUBG Mobile has no comparison with Free Fire. PUBG stands as an ultimate winner without any competition. PUBG uses the unreal engine, and this engine, without any doubt, delivers smooth, high quality, and unrealistic performance in graphics. Pubg lite also have amazing graphics.
But, you need to have a stable internet connection to play this game smoothly. Otherwise, you may face a lag if you play it on an unstable internet connection. On the other hand, Free Fire is specifically designed to be played even on an unstable internet
connection, and that is the reason its graphics are not as good as Pubg's graphics. But, Free Fire provides you with smooth and easy-to-use controls. Free Fire video game and player unknown battle ground both have ignore able difference in Graphics.
You may also Like to read: Does 'pubg Mobile' have Bots?
Characters
Free Fire has a variety of characters available to choose from. Free Fire developers regularly add more and more characters to develop users' interest in the game. Evo and Adam are the two free characters available when you start playing the game after downloading it.
But, you have the choice to buy more characters by spending in-game currency and diamonds you have in your game's wallet. Every new character of Free Fire comes with an additional ability with which you can have the upper hand on your rivals. However, PUBG Mobile has no such feature available until now. Although it allows the players to change the appearance of their characters. Free Fire seems to be a stand out winner in this regard.
PUBG vs Free Fire: Weapons Collection
PUBG stands as a winner when it comes to weapons collection. It currently has more than 35 weapons in multiple categories like snipers, pistols, rifles, shotguns, grenades, and much more.
Free Fire also has the same categories of weapons available, but they are less in number. Similarly, when you kill enemies in Free Fire, you need to be aware of zombie shooters as well. However, killing enemies in PUBG Mobile is much more satisfying and hassle-free.
PUBG vs Free Fire: In-Game Vehicles
Both, PUBG Mobile and Free Fire, offers its users a wide range of vehicles available in the game. Both games have included cars, ships, motorcycles for the players to play the game. But, PUBG Mobile is continuously adding more and more vehicles to its vehicle collection.
On the other hand, Free Fire offers its users a very limited number of vehicles and is also not adding new vehicles in its collection. You can only choose a car or a motorcycle in Free Fire while PUBG Mobile enables you to choose transportation on the water like boats, ships, etc. This give PUBG Mobile a slightly upper hand on the Free Fire.
PUBG vs Garena Free Fire: Final Verdict
With all the features listed above and having detailed analysis and comparison, we have concluded that PUBG Mobile has the upper hand slightly on the Free Fire, but there is no ultimate winner as both games have their own pros and cons. It depends on the users which game is more suitable to them. You have to check your phone's compatibility, internet connection before making a decision. If you have a good smartphone and a stable internet connection, you can go with PUBG Mobile. Otherwise, you can easily enjoy Free Fire without any hassle on any average smartphone and internet. What do you think about PUBG vs FREE Fire online games. Tell us in comment section.